Real Estate Marketing
How'd You Like 40 Sellers Sitting in a Room,
Ready to List With You?
---
Try Kathryn Dunn's

"Listing Magnet: A Seller Seminar System"
During a 60-day Trial Period
---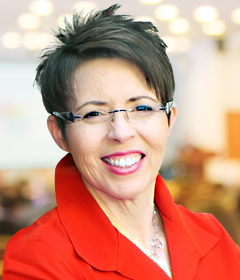 Hi, I'm Kathryn Dunn, a Mega Agent with Keller Williams Realty. I'm also a marketing expert. Since 1990, my marketing firm has helped more than 700 professionals attract new clients via public seminars, and we're nationally renowned as the "seminar marketing experts."
I want to share with you my "Listing Magnet: A Seller Seminar System", which has generated more than $1 million in commissions for my team, and has positioned us as the "#1 Recommended Real Estate Team" in our market.
This is a seminar we advertise monthly, using a "proven seminar ad" that targets homeowners who are considering selling their homes. Once the ad hits, reservations start pouring in from 30-50 attendees (15-25 households).
At the seminar, we use our "proven seminar presentation" to explain the sales process — including how to select the right agent. By the end, homeowners are lining up to schedule appointments with us — we average 16 appointments per seminar sweep (32% of attendees).
At our appointments, 50% list with us right away — that's 8 immediate listings… And that's just the tip of the iceberg because more will list down the road. Plus, we get lots of referrals from seminar attendees, too.
The great thing about seminars is that we can control our growth — if we want more listings, we do more seminars!
My marketing firm, K Dunn & Associates, is now ready to share this "Listing Magnet: A Seller Seminar System", on a limited basis — exclusively to one agent, team or agency per market area — and you can test it during a guaranteed, 60-day, trial period.
---
---
Let's schedule a FREE, 30-minute, phone consultation to discuss how seminars would work for you. Click the button to schedule, or call…
---
What People Are Saying
---
I'm not your only client, but sometimes it seems like it...you attend to my needs so quickly.
— Oklahoma
We received 95 seminar reservations during our first week — we're blown away!
— South Carolina
Results from my first seminar paid for my membership for a full year. I've definitely gotten my money's worth!
— New York
14 appointments again yesterday these people were swarming that appointment table like never before!!
— Massachusetts
If I hadn't gone with you guys, my bankruptcy would already be complete by now.
— Missouri
MAP membership gave our program the jump start it desperately needed.
— Oregon
It's really amazing… I can't believe the number of people calling!
— Indiana
We mailed a direct mail letter for a private seminar and got a 5.5% response rate!
— Oklahoma
The easy-to-follow, step-by-step program saves money and time by eliminating trial & error.
— New Jersey
We received 156 calls from our first seminar advertising. We had to book an overflow seminar!
— New Mexico
My gosh, we're getting bombarded with calls!
— Massachusetts
We had five seminars and they were all packed!
— Arkansas
You know, I didn't think this was going to work. I'm completely blown away.
— Florida
These seminars really work. It's amazing!
— Washington
---